P Series Classic
Inspired by a truly classic design and with the addition of a few modern twists, the Overwater P Series incorporates all the features, build quality and playability you would expect from an Overwater instrument.
Available in 4 and 5 string models with a 34″ or 35″ scale lengths and a choice of fingerboard materials and choice of pickups.
Standard Components
The following components come as standard and cannot be changed
| | |
| --- | --- |
| Neck Joint | Standard Bolt-On |
| Bridge | OW Precision Machined |
| Knobs | Turned Aluminium (Black) |
| Machine Heads | Hipshot Ultralite Clover Key |
Standard price from: £1,980.00
(€2,277.00 – $2,871.00)
Prices exclude UK VAT
String Spacing and Scale Length
 With the exception of the two 'Signature' models, all Standard Series basses are 'fixed' scale length and bridge string spacing :
4 String: 34″ Scale length – 19mm Bridge string spacing
5 String: 35″ Scale length – 18mm Bridge string spacing
6 String: 34.5″ Scale length – 18mm Bridge string spacing
Neck and Neck Joint
The necks on all our Standard Series basses  are constructed from Hard Maple (Acer saccharum) with three style options available:
1 piece Bolt-on: A  single piece – slab sawn and reinforced internally along their entire playing length by twin stiffening bars, running parallel, either side of the fully adjustable truss rod.
3 piece Bolt-on:  Laminated from three pieces of quarter sawn timber and reinforced with twin stiffening bars from the 12th fret/position upwards
Thru-neck:  Laminated from three pieces of quarter sawn timber – running the entire length of the instrument, from headstock to strap button and internally reinforced from the 12th fret upwards.

Fingerboard and Position Markers
Fingerboards: Fingerboard materials available on our Standard Series Basses are Indian Rosewood, Plain Maple, Figured Maple and Indian Ebony.
Fretted:  The standard option for fretted fingerboards is Indian Rosewood.   Plain Maple, Figured Maple and Ebony are also available as upgrade options.
Fretless: Indian Ebony is our standard choice for fretless fingerboards and available 'Plain' or 'Lined' .
A lined fretless fingerboard provides a visual guide of spacing on the fingerboard by embedding lines where the frets would normally be, with 2mm side dots in the normal position between the position lines. A non-lined fretless fingerboards have 2mm MOP dots on the edge of the fingerboard indicating atcual 'note position'.
Fretted Position Markers: The standard option for position markers indicating major positions on Rosewood and Ebony fretted instruments are optional 6mm Mother of Pearl dots on the face of the fingerboard. Maple fingerboard position markers are made from black ABS plastic rod.
'Block Inlays' are also available as an upgrade option on both Maple and Rosewood Fingerboards. Contrasting materials such as  MOP and Ebony are used as the inlay material.
Body Woods and Figured Tops
Body Woods
Our basses are built from a range of tone woods chosen for their tonal resonance, weight and visual beauty.  Lighter weight woods such as Swamp Ash and Alder provide a balanced, articulate response – whereas darker, heavier timbers such as Walnut provide a warmer, punchier tone, stronger in mid-range frequencies.
Swamp Ash: A medium to lightweight timber that offers a very balanced response across the frequency range, very articulate, but with a slight mid-scoop. Light in colour, with a pronounced grain pattern, Ash lending itself to clear and translucent colour finishes
Red Alder: Slightly heavier in weight with a closer grain structure and pale red/brown in colour, Alder provides a very similar tonal response to that of Swamp Ash – but a little 'warmer' and with slightly more pronounced upper mid-range. The smooth texture makes it an ideal candidate for solid colours and high gloss finishes.
Tulipwood:  Another close grained, medium weight timber, a little denser than Alder, Tulipwood (a member of the Poplar family of trees), produces a 'brighter', 'puncher' tone with a good balance of depth and clarity and smooth mid-range response.
Pale in colour, with darker 'greenish' streaks  – can be very attractive with a natural finish – but the smooth texture also makes it an ideal tone wood for a solid colour finishes.
Black Walnut: Darker and heavier than other bodywoods, Walnut produces a rich, punchy tone with a smooth, articulate bottom end, sweet highs and a pronounced low-mid response that is ideally suited for use in both fretted and especially fretless basses.
A beautiful dark chocolate brown in colour, ideal for a clear finish in either high gloss or satin lacquer finish.

Figured Tops
We currently have five timber options for use as overlaid tops on our Standard Series Progress and Hybrid models: 
These are European and North American Figured Walnut, Figured Maple, Spalted Beech, Zebrawood and Spanish Olivewood.
Some of our basses will include the option for an overlaid top (The Progress and Hybrid models), offering an extension to both visual and tonal complexity to your bass. We individually select highly figured pieces, chosen to enhance sound and aesthetics. 
Examples of our current selection seen below. Other options may be available on request.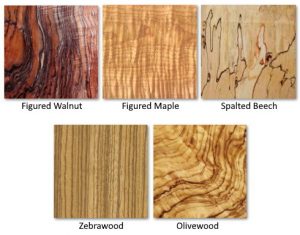 Images shown are designed purely as examples of the types of grain typical to specific timber varieties – but of course, every top selected is unique and the woods available at any time will vary to some degree in colour and grain. During the building of your bass we will contact you to confirm your choice, or with a range of options for the woods currently available.
Finishes
In addition to natural wood finishes in Satin and High Gloss, we can also offer a range of 'bursts' and translucent stains and solid colours.
Natural:  Available both satin and high gloss options, clear lacquer finishes are ideal to bring out the inherent beauty of the natural wood.
Translucent Colours: Translucent finishes can come in many styles from a single colour finish to 'bursts' in a range of styles. Translucent finishes can accentuate the grain patterns of lighter woods, such as Ash and Figured Maple and adding a dramatic twist of texture and colour. Trans' colours are available in both satin and gloss.
Translucent

Bursts

Solid colour: Solid colours are available for Progress, Hybrid and J Series models, adding a 'retro' vibe to both 'traditional' and contemporary designs. Available only as a high gloss finish.

Custom colours available – subject to availability.
Pickups
All Standard Series basses are fitted exclusively with a choice our own own design internally shielded and hum-canceling pickups, incorporating 'bar pole pieces' to facilitate use with various string spacings without 'drop offs':
Pickup Options
OW Soapbar: Available in 4, 5 and 6 string formats – 'side by side' dual coil construction, with Ceramic magnets placed between steel bar pole pieces. Hum-cancelling, coils wired in parallel, offering a big, clear output, with a wider 'magnetic window' and delivering a balanced tonal response that will reflect the natural sound of the bass.
OW Low Noise J: Available in 4 and 5 string formats – the single pick-up coil is wrapped around a bar magnet pole piece and wired in series with a second 'non-sounding ghost coil'  that cancels hum while retaining an authentic 'single coil', narrow window  of a classic J style pick-up. The balanced output windings of the 'neck' and 'bridge' pick-ups ensure an even output in both positions. The option to choose either Ceramic or ALNICO magnets is available with both 4 and 5 string Noiseless J pick-ups.
OW Low Noise P: Naturally hum canceling and internally shielded, our 4 and 5 string P pick-ups fitted in the classic P position can be fitted in either the regular 'forward' position, or in a 'reverse' placement for added bass end clarity – especially useful when fitted to a 5 string.
OW Low Noise P/J Combination: As above, but electronically balanced in order to compensate for different output levels and offer a wider tonal palette to the player.
Electronics
Active Ow 3 band preamp: 5 knob Active only preamp' – flat response, so that when all the EQ knobs are set at the centre 'notched' position, no pre EQ shaping is engaged, so the amplified signal is completely neutral and only the natural sound of the bass and pick-up positions can be heard. 
The input stage of the preamp buffers the pick-up blend so you get a smoother, more even pan between the pick-ups, and also lowers the signal impedance of the output in order to reduce cable capacitance, with the option of adding a little gain to the output signal and increasing signal quality at source.
The 3 band EQ knobs are 'linked through', as opposed to the more usual separate buffered EQ centres and are 'overlapping' for a more 'musical' response. 
The volume knob also has a pull switch that activates a pre set 'attack' filter that subtly enhances the dynamics of your playing.   
Overwater/East plate mounted 3 band J preamp: Available in 3 or 4 knob versions. Custom designed preamp is based on the original East J Retro unit, redesigned by John East specifically for Overwater. This circuit features an active only 'flat response' pre-amp with a buffered active blend that also lowers the signal impedance ensuring highest quality output levels and preventing the signal losses associated with most passive basses.
Offering a very flexible active 3 band EQ which includes a 'mid-sweep' . together with master volume and active blend – via 3 'stacked' 'dual concentric' pots. Also available with a 4th added Passive Tone control and external 'edge mounted' locking jack socket.
OW/East Active/Passive 2 Band preamp: Based on John East's 'J-Tone',  this flexible preamp offers a 2 band active EQ and traditional Passive tone control – offering either a Full Passive Path with an Active Bass & Treble switchable in or bypass. The active section can be tailored to suit personal EQ frequency preferences via a pair of internally accessed 'edge wheels' allowing individual custom voicing for both the bass and treble control spectrums.
OW Buffer Preamp with Passive EQ: Designed exclusively for Overwater by John East, this twin channel preamp lowers the pick-up signal impedance and gives you the option to add a little gain via individual pre-set 'trim pots' at source – also useful to balance the individual pick-up outputs and ensures a very low noise, high quality signal reaching the amp or desk with no cable losses.
This preamp is completely 'flat response' and does not change the natural sound of the bass at all and works in conjunction with 'passive' controls and in conjunction with the exceptionally smooth 'buffered' pick-up blend, this simple to operate system adds a whole new dimension to the traditional '3 pot' control layout.
Bridges and Machine Heads
All our Standard Series basses are fitted with our custom designed and individually machined bridges. Available in 4, 5 and 6 string formats and all applicable string spacings our original, fully adjustable bridges offer exceptional stability and string anchoring facility and ease of string changing.
All Progress and Hybrid Series basses are fitted with our high quality 'Enclosed' 20-1 gear ratio 'Bass Mini' machine heads – available with Chrome, Black or Gold plated finish.
All Overwater J and P style instruments are fitted with larger '1/2″ post Hipshot Ultra Lite machine heads, with larger 'clover leaf' tuning buttons.
Pickguards and 'Bell' Control Plates
Pickguards: Available for all Standard Series models (full or partial), in a variety of materials,  including 3 ply laminated black, white, tortoiseshell and pearloid and other colours subject to availability. 
Bell Plates: Available for J style basses, matching the hardware finish in black, chrome and gold.
Shipping
Shipping: Domestic (UK) and World wide shipping is available and is charged at cost. Cases must be purchased for all basses shipped internationally and a fitted outer box will be supplied.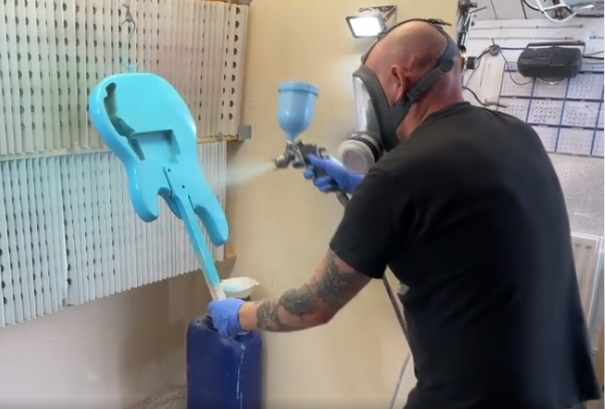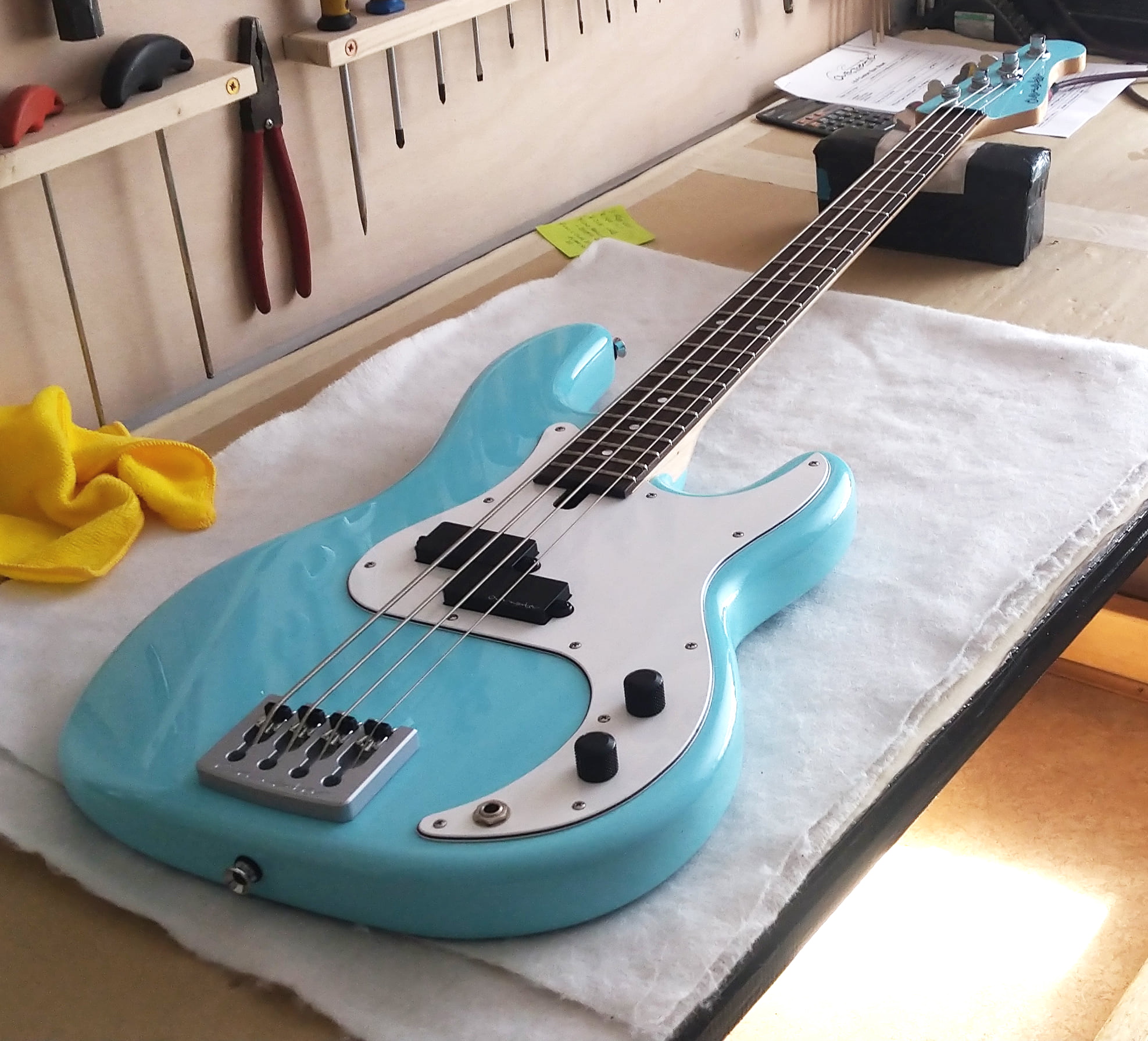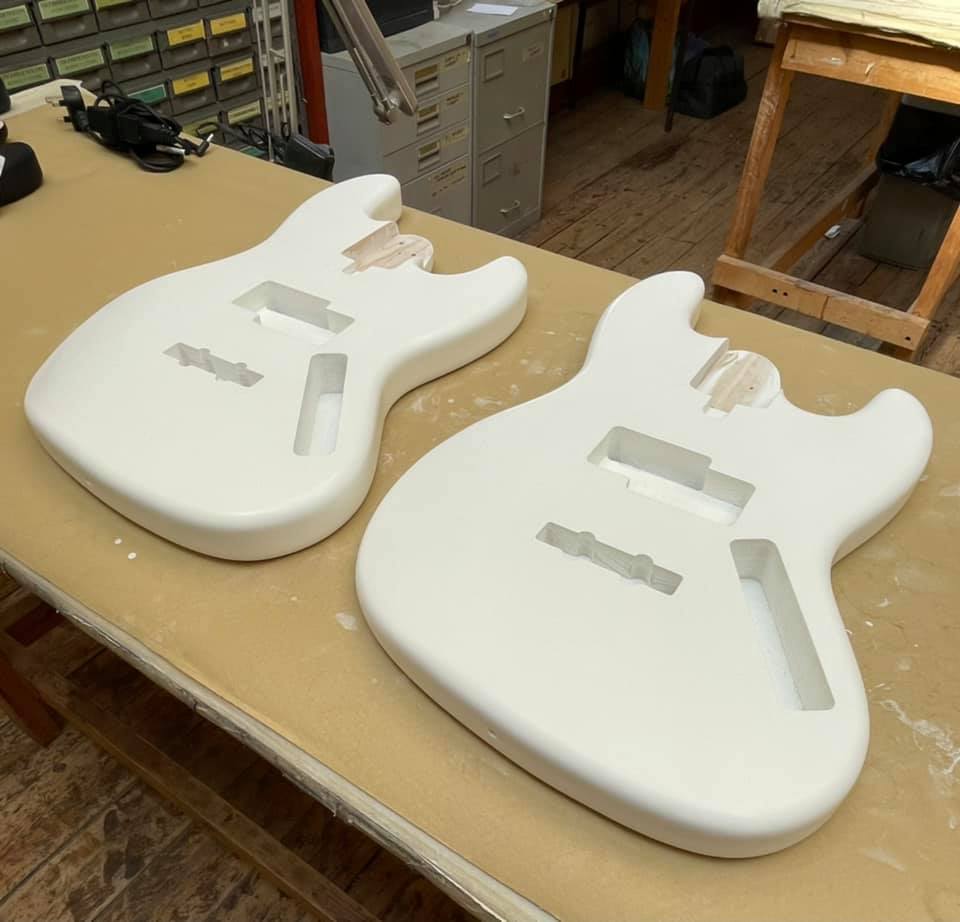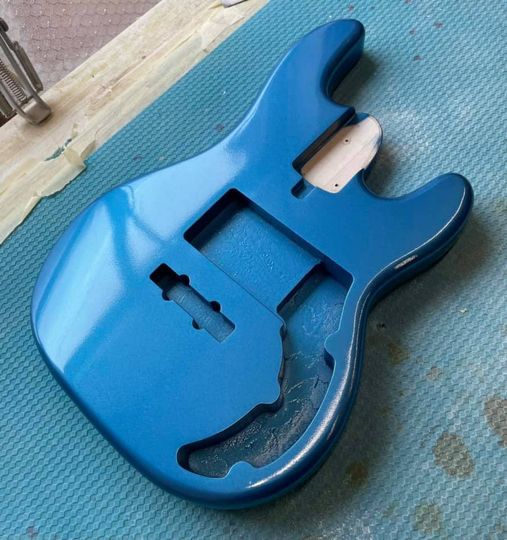 Terms & Conditions:
You can read our Terms & Conditions here.
Contact Us:
If you have any questions either before or after placing your order, please feel free to get in touch for a chat and one of our sales team will be happy to go through any aspects of the process with you! info@overwaterbasses.com