SIGN UP FOR NEWS
JOIN OUR MAILING LIST TO RECEIVE THE LATEST NEWS, REVIEWS & OFFERS FROM OVERWATER HQ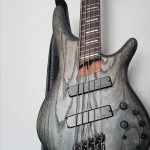 ChrisRossUK
Group: Registered
Joined: 2020-05-22
My name's Chris and I'm from the UK.
I've loved bass guitars since I started playing in my teens and am currently learning how to set them up. I record what I do on my YouTube channel as I thought it would be interesting to see how my skills develop.
I currently own an Ibanez SR805FF and a Squier CV 70s Precision - but I've got my eye on custom builders and will most likely commission something epic soon!
Currently learning how to setup bass guitars!