Scott Devine Signature Series – SDS Lite
Available as Fretted & Fretless in 4 & 5 String Formats
Scott Devine, founder and creator of ScottsBassLessons is the driving force behind the largest educational resource for bass players on the web. Over the last two years Scott has helped over 4 million bass players world-wide and has over one hundred thousand people visiting his website every month.
Scott's association with Overwater Basses coincided with the start of his playing career. In fact, his love of bass actually began in the Overwater workshops! So, when it was time to develop that very special bass on which to further advance his very unique talent, he knew he could trust Overwater to help him design and create something very special.
The Scott Devine Signature basses (or SDS for short) feature an economy of design and distinctive style that reflects Scott's own approach to playing and the SDS has rapidly become a core model within the Overwater range.
The Ethos of Devine Playing
Scott and Overwater have now collaborated once more, expanding the SDS range to include a new model based around Scott's own fretless. While retaining all the core elements of the original, the new SDS Lite has its own, very distinctive tonal range and unique appeal, and brings a fresh, dynamic sound to the Overwater family of basses.
With a three piece maple neck and flat response 3 band EQ, the SDS Lite offers players a slightly lighter weight instrument, with a smoother, more neutral voicing that balances both clarity and depth. The SDS Lite is available for the first time in 4 string and fretless formats.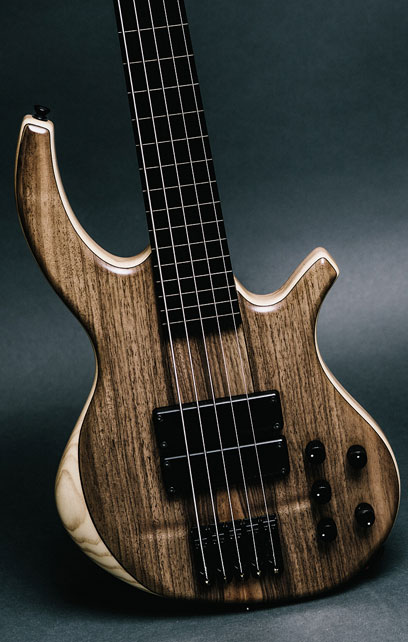 CONTACT US
FOR FURTHER INFORMATION AND TO PLACE AN ORDER
Neck
33″ Scale
5 String tuned E – C / 4 String tuned E – G
3 piece bolt on maple neck with stiffening bars
Available in 16.5 & 18mm string spacing
Fretboard
Indian Rosewood, hard maple or ebony
Available fretted and fretless.
Fretted – flat profile profile with front and side MOP dot inlays
Fretless – 12″ compound radius – plain or lined – MOP side dots
Body
Medium weight White Ash or Black Walnut
Finished in light satin lacquer
Top
European Walnut or figured Maple (other options available)
Machines
Black mini bass (enclosed gears)
Bridge
Individual bridge pieces with adjustable saddles
Pick-Ups
Custom Overwater OW5 pickups configured in the
Scott Devine position
Electronics
Custom flat response 3 band EQ with bright boost