The J Series is a range of traditionally inspired basses designed to combine classic looks with Overwater craftsmanship, sound and playability.
Available in 4 and 5 string formats in a variety of scale lengths, with a choice of fingerboard materials, finish and pick-up and electronic configurations.
Representing one of our most in-demand models, the J Series is available to either Standard or Custom specifications, with either Contemporary or Classic styling.
AVAILABLE IN STANDARD, CUSTOM CLASSIC AND CONTEMPORARY MODELS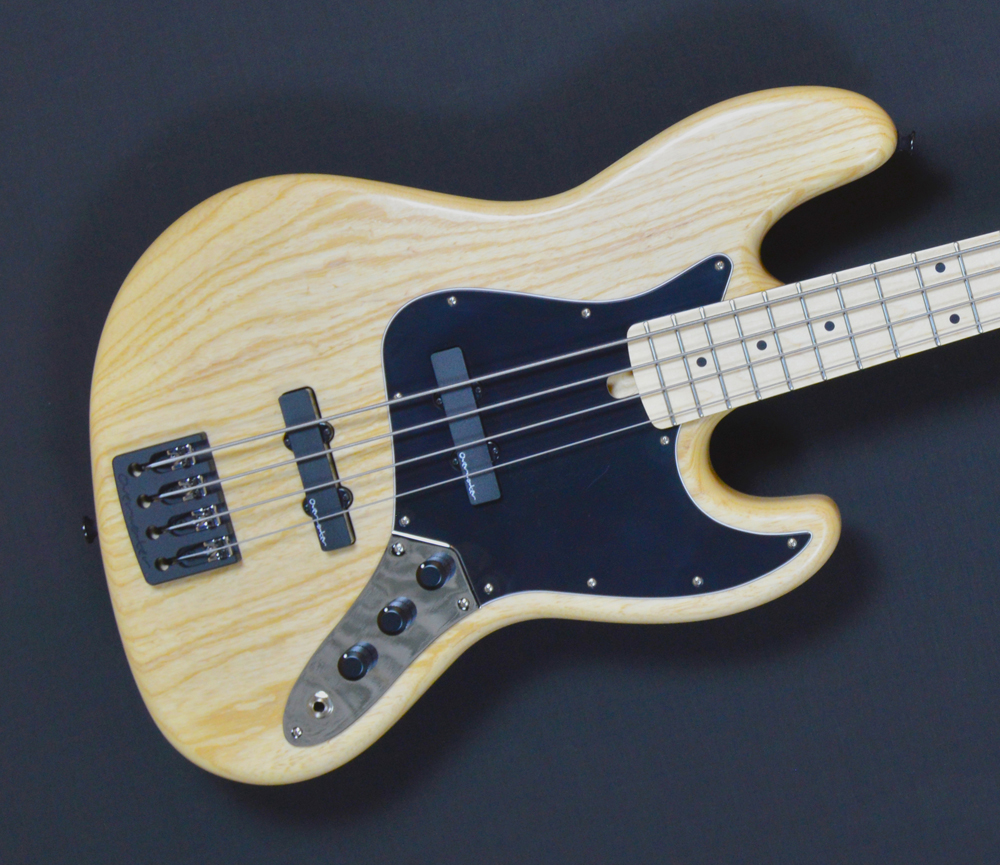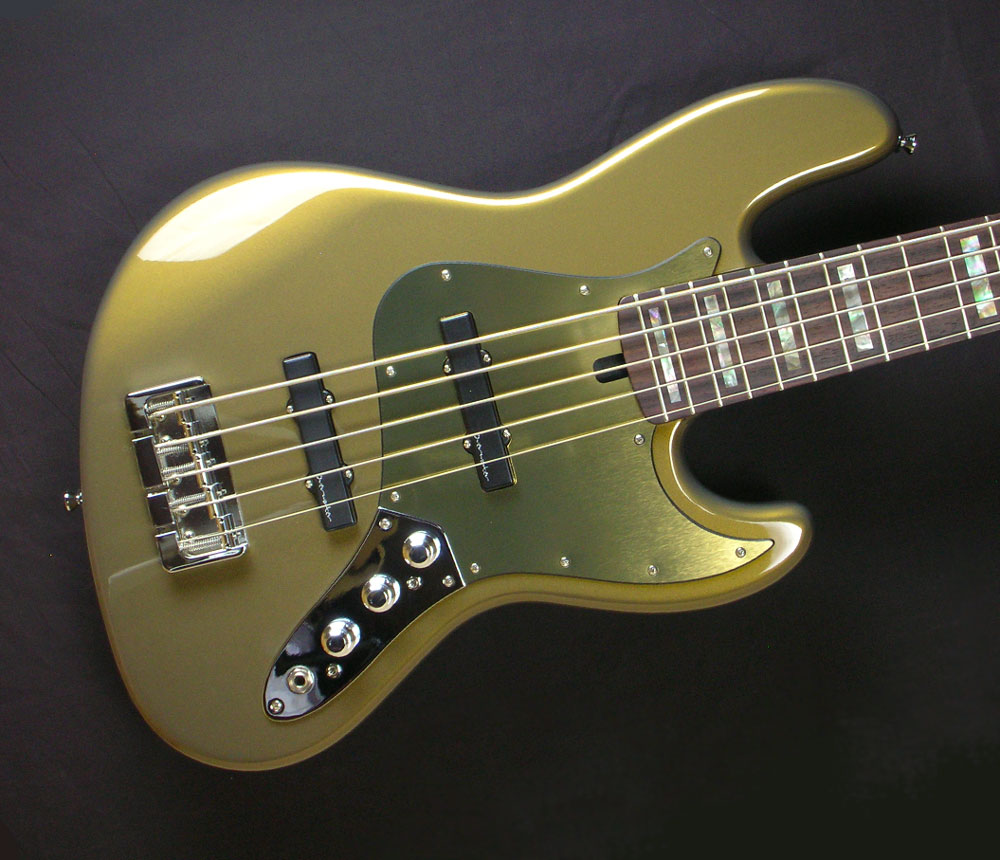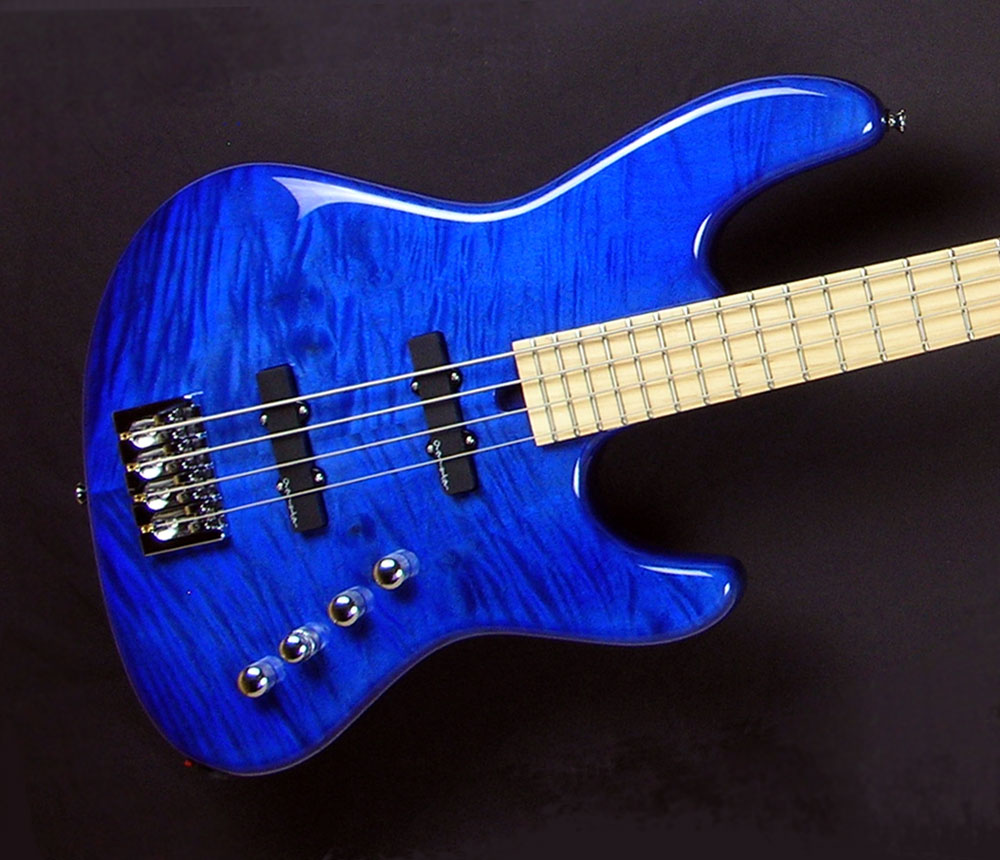 « SCROLL ON MOBILE FOR FULL VIEW »
STANDARD
OPTIONS
FINISH
NECK
1 Piece Maple
Figured Maple
Natural Satin
NECK JOINT
Standard Bolt-On
None
Natural Satin
FRETS
20 Medium
None
FRETBOARD
Rosewood/Equivalent (Fretted) Ebony (Fretless)
Ebony, Maple
SCALE LENGTH
4 String - 34"
5 String - 35"
None
BODY
Swamp Ash
Alder
Natural Satin:
High Gloss:
Solid Colour
Colour Tint

PICK GUARD
Black Laminate
White Laminate
Tortoiseshell
Pearloid
Custom
HEADSTOCK
Maple
Matching Colour
Natural Satin
Matching Colour
MACHINES
Hipshot Ultra Lite
None
Black, Chrome or Gold
BRIDGE
Overwater Custom
Overwater Custom
Contemporary style
Black, Chrome or Gold
PICK-UPS
Overwater Noiseless J
Overwater P/J
ELECTRONICS
OW 'Flat Response' Buffer Pre-amp + Passive EQ
Ow/East 2 Band Active EQ
CONTROLS
Volume, Blend + EQ
Volume, Blend + EQ
KNOBS
Turned Aluminium
None
Black
STANDARD
OPTIONS
FINISH
NECK
1 Piece Maple
Figured Maple
NECK JOINT
Standard Bolt-On
None
FRETS
20 Medium
21 or 24 Medium

SCALE LENGTH
4 String - 34"
5 String - 35"
30" - 32" - 33"
33" - 34" - 34.5" - 36''

FRETBOARD
Rosewood/Equivalent (Fretted) Ebony (Fretless)
Ebony, Figured Maple
Oil or Lacquer
BODY
Swamp Ash
Alder
Natural Satin
High Gloss
Solid Colour
Colour Tint
Sunburst
TOP
None
Figured
As Above
PICK GUARD
Black Laminate
White Laminate
Tortoiseshell
Pearloid
Custom
HEADSTOCK
Maple
Veneered
Natural
Matching Colour
MACHINES
Hipshot Ultra Lite
None
Chrome or Black
Gold
BRIDGE
Overwater Custom
Overwater Custom Contemporary style
Chrome or Black
Gold
PICK-UPS
Overwater Noiseless JJ or PJ
Custom
ELECTRONICS
Buffer Pre-amp
Passive EQ

Ow/East 2 or 3 band
Active EQ
Optional Passive Tone
CONTROLS
Vol, Blend + Passive Tone
Volume, Blend + EQ

KNOBS
Turned Aluminium
Custom
Black/Chrome/Gold
STANDARD
OPTIONS
FINISH
NECK
1 Piece Maple
Figured Maple
NECK JOINT
Standard Bolt-On
None
FRETS
24 Medium
22 Medium
SCALE LENGTH
4 String - 34"
5 String - 35"
30" - 32" - 33"
33" - 34" - 34.5" - 36''

FRETBOARD
Rosewood/Equivalent (Fretted) Ebony (Fretless)
Ebony, Maple
Figured Maple
Oil or Lacquer
BODY
Swamp Ash
Alder
Natural Satin
High Gloss
Solid Colour
Colour Tint
Sunburst
TOP
Figured (selection)
As Above
HEAD VENEER
None
Matching
Natural
Matching Colour
MACHINES
Hipshot Ultra Lite
Custom
Black, Chrome or Gold
BRIDGE
Overwater Custom
Custom
Black, Chrome or Gold
PICK-UPS
Overwater Soapbars
Overwater Noiseless
JJ or PJ
Wooden Covers (SB's)
Black
Natural
Matching Colour
ELECTRONICS
OW - Active 3 Band
Ow/East Active 3 Band EQ
Custom
CONTROLS
Vol + Pull Bright, Blend
+ 3 Band EQ
Optional Passive Tone
Vol + Pull Bright, Blend
+ 3 Band EQ
Optional Passive Tone
KNOBS
OW Turned Black
Turned Aluminium
Wood
Custom
Black
Chrome/Gold
Natural/Matching