PROGRESS SERIES IV – CUSTOM

The Custom Series Progress bass is available as either a through neck or an extended bolt-on construction. The Progress Series IV combines balance and playability with outstanding tonal clarity and visual elegance. Available in 4, 5, 6 and 7 string formats with a wide choice of tunings, scale lengths and string spacings, this model offers plenty of scope for every playing style.
Every Progress bass comes equipped with our own custom electronics, pick-ups and hardware – designed by, and exclusive to, Overwater. Other manufacturers parts may be specified as a custom option if requested.
Tone woods available for bodies include Ash, Alder, Walnut, Tulipwood and Mahogany. We offer a variety of fingerboard materials to chose from, and neck laminates include Maple (plain and figured), White Ash, and Wenge. Walnut 'stringers' are used in 5 piece laminate through neck instruments.
A wide and ever changing selection of figured body and headstock facings are also available – ensuring each instrument its own, unique beauty.
AVAILABLE IN BOTH BOLT-ON AND THROUGH-NECK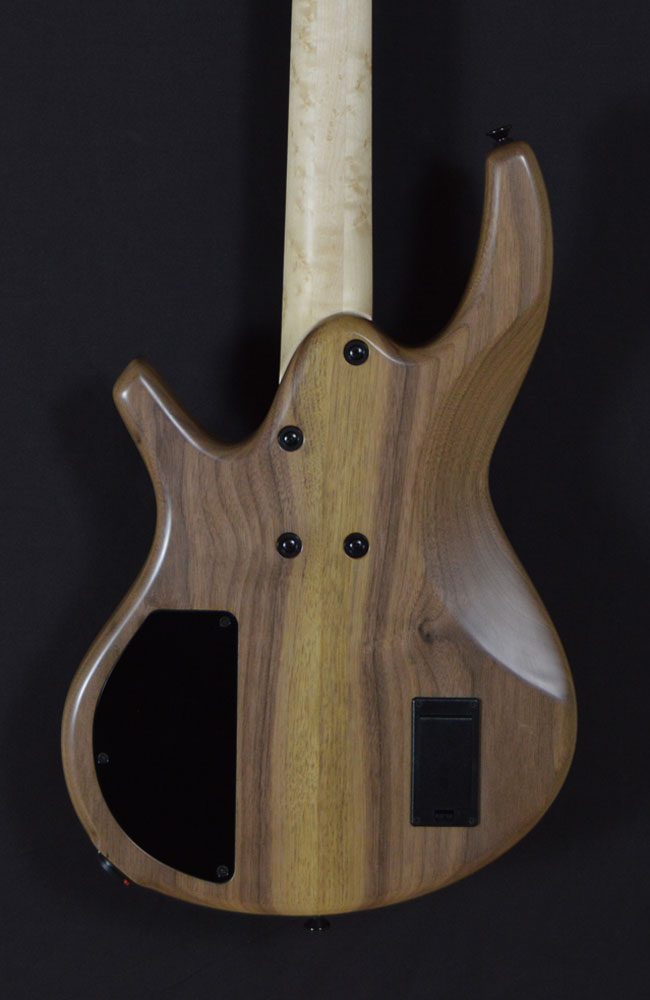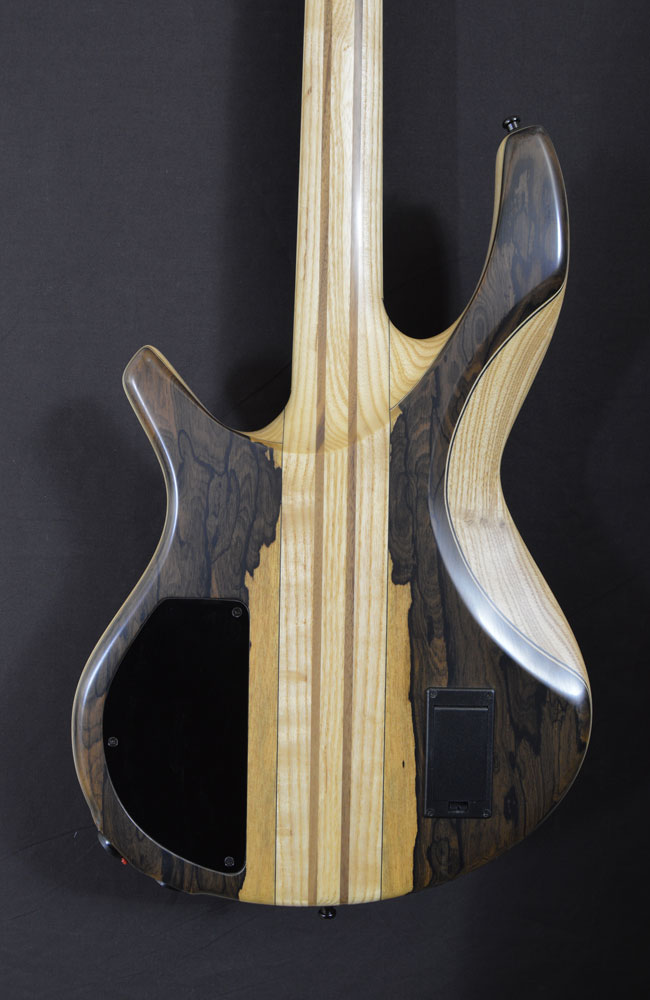 « SCROLL ON MOBILE FOR FULL VIEW »
STANDARD
OPTIONS
FINISH
NECK
3 Piece Maple
Wenge, White Ash
Natural Satin
Gloss
Colour Tint
NECK JOINT
Extended Bolt-On
None
FRETS
24 Medium
26 Medium
Custom gauges
SCALE LENGTH
4 String - 34"
5 String - 35"
6 String - 34.5"
30" - 32" - 33"
33" - 34" - 34.5" - 36''
34" - 34.5" - 35" - 36''
FRETBOARD
Rosewood/Equivalent (Fretted) Ebony (Fretless)
Maple, Wenge, Ebony
BODY
Walnut, Ash, Alder, Tulipwood
Mahogany
Natural Satin
Gloss
Colour Tint
TOP
Figured (Selection)
Figured AAA Grade
Natural Satin
Gloss
Colour Tint
HEAD VENEER
Matching
Contrasting
Natural Satin
Gloss
Colour Tint
MACHINES
OW Enclosed
Hipshot Ultra Lite
Black, Chrome
Gold
BRIDGE
Overwater Custom: String Spacing 16.5mm to 20mm
OW Mono-rail
Through Body Stringing
Black, Chrome
Gold
PICK-UPS
Overwater Soapbar
Custom
Wooden Covers
Black
Natural Lacquer
ELECTRONICS
OW 3 Band
Custom
CONTROLS
Vol + Pull Bright, Blend, 3 Band EQ
Custom
KNOBS
OW Turned Black
OW Turned Wood
STANDARD
OPTIONS
FINISH
NECK
5 Piece Maple / Walnut
Wenge, White Ash
Natural Satin
Gloss
Colour Tint
NECK JOINT
Through Body
None
FRETS
24 Medium
26 Medium
Custom gauges
SCALE LENGTH
4 String - 34"
5 String - 35"
6 String - 34.5"
30" - 32" - 33"
33" - 34" - 34.5" - 36''
34" - 34.5" - 35" - 36''
FRETBOARD
Rosewood/Equivalent (Fretted) Ebony (Fretless)
Ebony (Fretted)
Maple, Wenge
BODY
Walnut, Ash, Alder
Mahogany
Natural Satin
Gloss
Colour Tint
TOP
Figured (Selection)
Figured AAA Grade - Selection
Natural Satin
Gloss
Colour Tint
HEAD VENEER
Matching
Contrasting
Natural Satin
Gloss
Colour Tint
MACHINES
OW Enclosed
Hipshot Ultra Lite
Black, Chrome
Gold
BRIDGE
Overwater Custom: String Spacing 16.5mm to 20mm
OW Mono-rail
Through Body Stringing
Black, Chrome
Gold
PICK-UPS
Overwater Soapbar
Custom
Wooden Covers
Black
Natural/Colours

ELECTRONICS
OW 3 Band
Custom

CONTROLS
Vol + Pull Bright, Blend, 3 Band EQ
Custom

KNOBS
OW Turned Black
Matching Wood