The Overwater Advantage: Custom Upgrades For Bass Guitar
Creating a seamless, captivating performance requires both skill and the right instrument. Overwater Basses have taken the craft of custom building to a new height, offering a suite of enhancements that can add a one-of-a-kind flourish to your next bass build. Let's explore how these custom upgrades, from the aesthetics of selecting the individual pieces of exotic wood that will go into the construction and the design of personalised inlay work – through to a raft of technical choices, such as scale length, string spacing and pick-up configurations – all enriching your whole bespoke building experience.
1. Inlays, Binding and Custom Materials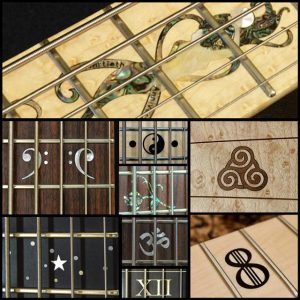 Block inlays can add a layer of elegance and sophistication, enriching the instrument's overall visual appeal. We provide a top-tier choice of inlay materials to create a striking contrast against the fingerboard that can significantly enhance the aesthetic character of your bass.
Matching wood binding can reinforce the visual continuity of an overall design theme, elevating the look of your bass and showcasing your individual style and artistic taste.
In addition, we offer a wide variety of personalised fingerboard inlays and motifs, adding individual touches of character and aesthetic enhancements.
2. Custom Finishes: Uniquely Yours
Few upgrades match the personal impact of a bespoke finish. Whether you prefer a high gloss or classy natural satin finish over exotic wood grain, a 'Classic' paint finish or a striking modern colour scheme, we can bring your vision to life. Our bespoke finishes are the ultimate reflection of your style, transforming your bass into a one-of-a-kind masterpiece. Check out this stunning Custom Progress 5 string with its unique 'Chakra' inspired finish.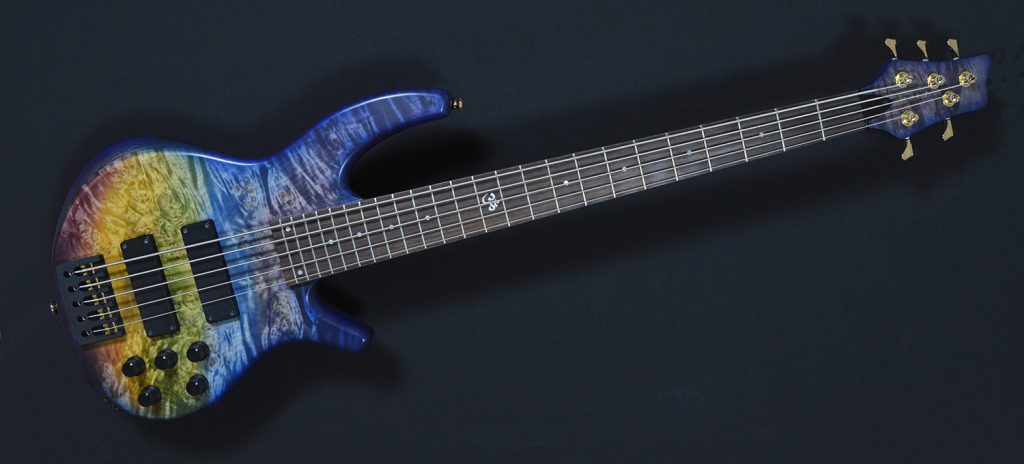 3. Exotic Wood Choices: Natural Beauty Amplified
The tonal character and balance, and clarity of acoustic responses of your bass all stem from the materials from which it is made – and in addition to our selection of classic tonewoods used in the construction of our necks and bodies, we also offer a huge selection of exotic timbers that can enhance your bass both visually and sonically.
The materials you select for constructing your bass will significantly impact its acoustic characteristics and personalised aesthetic appeal.
Our collection of exotic tone woods provides options of resonance and tonality, coupled with the extraordinary and unique grain patterns inherent to each piece of wood – offering an opportunity to imbue your bass with a natural elegance and tonal preferences tailored to your own individual taste.
5. Bespoke Wooden Pickup Covers and Knobs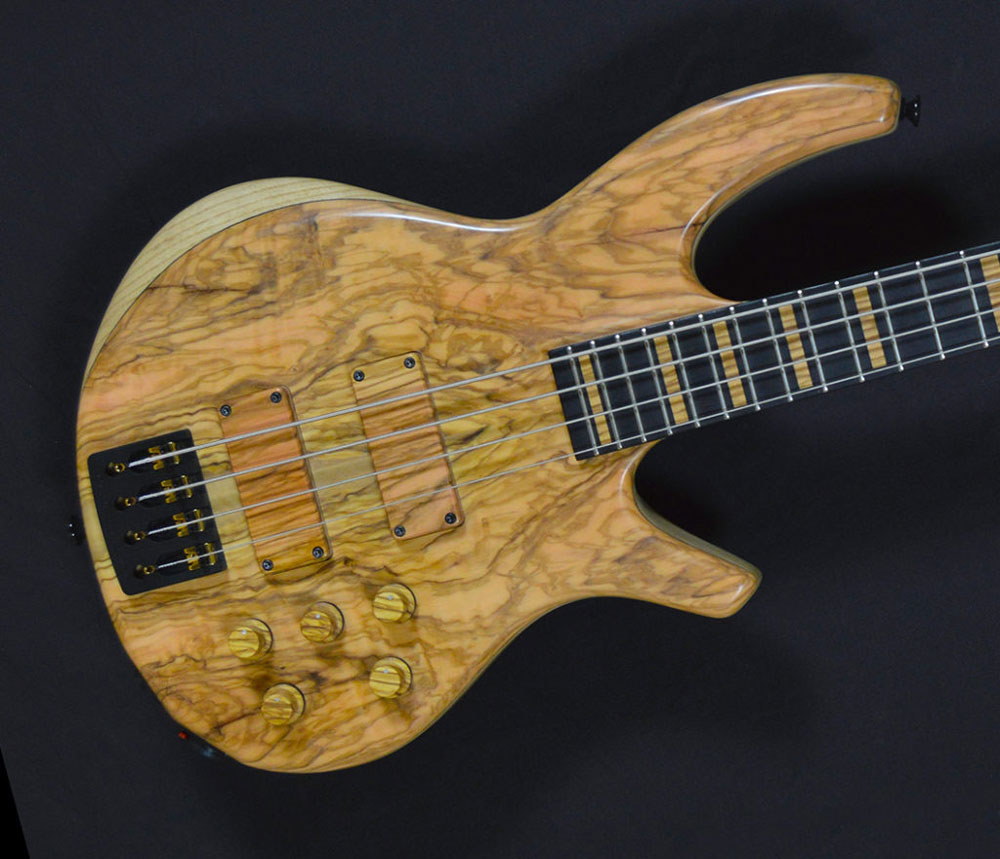 Our custom-designed and crafted matching pickup covers and knobs can provide the perfect opportunity to elevate the visual aesthetics of your bass. These tailor-made enhancements transform the look of your instrument and add a touch of your own personal style and sophistication.
The wooden pickup covers, control knobs, and/or truss rod cover can be crafted from the same range of exotic tone woods available for the bodies of our instruments, offering a seamless continuity and visual appeal.
The old saying that 'a thing of beauty is a joy forever', really does hold true in the case of a musical instrument – and if you are comfortable with an instrument that reflects your taste and personality – you will play better!
5. Custom String Spacing and Scale Length: Tailored for Comfort and Playability
Comfort is key when playing the bass guitar, so we offer a selection of custom string spacing and scale length options. Whether you have smaller hands or prefer a specific spacing for playing in a particular style, our range of Custom Series basses offers a range of options that will enable us to meet your specific needs. This means a more relaxed, enjoyable playing experience tailored to your unique preferences.
A case in point stems from Overwater's unique relationship with Scott Devine of 'Scotts Bass Lessons' a long-standing friend and collaborator, Overwater is the only bass company in the world offering not only one but two official 'Scott Devine Signature' models.
Scott's preference was for a narrower string spacing and shorter scale length is a feature of both our original 'SDS' and 'J Series – Scott Devine Model' – both a custom scale length of 33" combined with 16.5mm string spacing, together with specific construction and pick-ups configurations.
Custom Upgrades for Bass Guitar – Our Conclusion
Overwater Basses offer an unparalleled, tailor-made experience that allows you to create a custom bass guitar representing your unique artistic identity.
From the elegant sophistication of real wood binding, pick-up covers, control knobs and personalised inlay work through to the individual detailing of a custom finish and the resonant beauty of your exotic wood choices, every detail is carefully curated to create a truly bespoke masterpiece.
Moreover, we understand the importance of playability – and that 'sound and set-up' are the keys to a great instrument, always prioritising attention to detail and optimising comfort and performance. Ultimately, the art of bass playing deserves an instrument that's every bit as special as the music you create.
Now it's your turn to take the leap and commission your new Overwater with some of these custom upgrades
Explore our range of custom options, select your unique combination of elements, and Contact Us Today. 
Let Overwater Basses bring your vision to life.